Panel packing solution with bubble film wrapping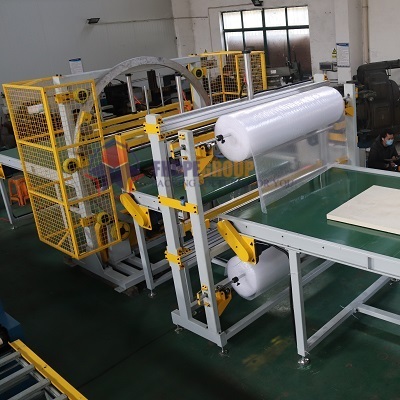 For wapping with corner protector, please provide the photos of your corner.
Because of smoe of the protecter is easy position shifting in wrapping caused by the wrapping force.
This is a wrapping machine with corner protector. The machine designed with adjustable holder that holding the paper protector in wrapping position.
Horizontal wrapping machine for glass door
I will remind you our requirements:
Single panel size LxWxT = 2700 x 1200 x 40, material is fibreglass (bit soft and delicate).——ok
Maximum input to machine will be 10 panels stack on each other, max. height will be 450mm.—–ok
https://www.fhopepack.com/Horizontal_wrapping_machine.html
Cycle time of our automated line is 45s and we expecting the maximum size 2700 x 1200 x 450 will be wrapped within this time.—–It needs solution 3m infeeding conveyor+bubble film sealer+3m transfer conveyor+wrapping machine+3m out feeding conveyor
We tested wrapping on orbital stretcher already and can confirm following:
As result of foil wrapping force, panel can be damaged (edges can be compressed, or end of panel bend inwards).
Here we have to use edge protection by whole length of panel. For this reasons the tension on unwinding the foil have to be adjustable, including compatibility with thinner foils which requires lower tension force.
——Not problem for dege protection+tension force adjustment lower or hight
With some products we do not require the top end bottom layer of bubble film and sealer, can be this turned off in controller?
—–It can be by pass
Send me a quote and include accurate lead time for machine manufacturing, please.
Can you arrange machine demonstration by Whatsapp?
——It is a customized solution, not machine can be used for testing now.
Also I noticed that on you website is a standard orbital stretcher for doors, which you suggested earlier, but also improved version. Can this be a alternative solution?
——- Special solution per your requirment is not problem
Waiting for your reply.